Healthcare is a delicate industry to be in. On one hand, you want to speak technically and knowledgeably to show your expertise, but you also need to relate to the patient personally and communicate compassion.
When designing a healthcare website, it's important to convey the comfort and care of patients while still highlighting your medical expertise. And you'll need to consider what information patients and potential new patients will want to know prior to their visit.
One of the best ways to decide what will work well for your own website is by checking out websites from others in the same industry.
We've compiled a few healthcare websites that our team here at ClikIT has worked on to help spark inspiration and help you discover how you'd like your own website to look and function:
St. Margaret's Health
We worked on this website design in conjunction with MCS Advertising and we're really proud of how it came together!
Overview: St. Margaret's Health Care, in union with the Sisters of Mary of the Presentation, is committed to the values of Catholic health care in caring for the needs of our patients and their families, the community, and one another. Through their belief in God and respect for life, they provide holistic quality health care with dignity and compassion.
Why it Works: St. Margaret's Health website shows off the brand colors to create cohesiveness from page to page. Their web design clearly organizes and offers the most common next steps and organizes the most helpful resources for their patients. And, most importantly, their website maintains a high level of security to safeguard patient information and billing.
See their website here.
Wellfit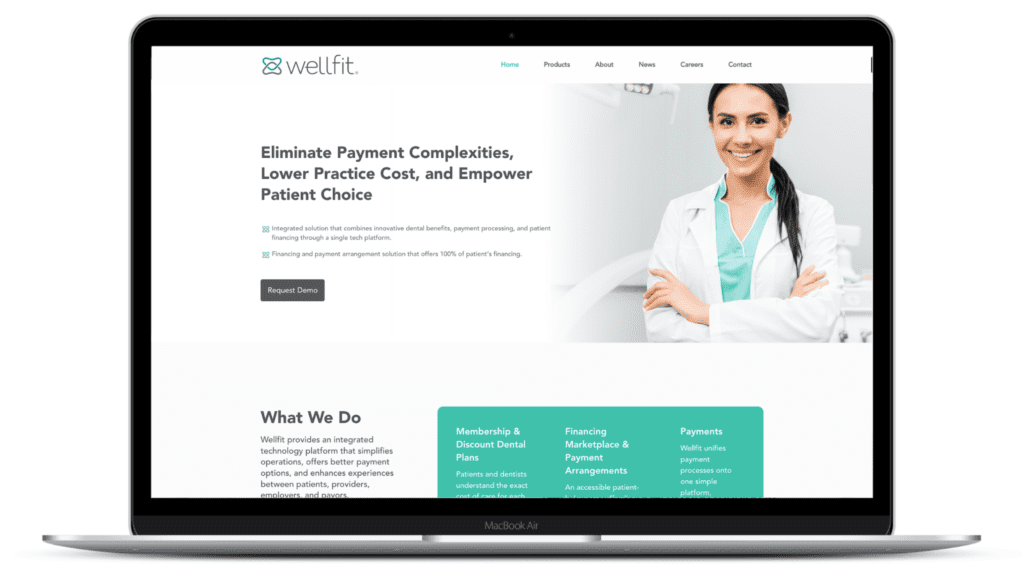 Wellfit is revolutionizing the way that dentists do business by leveraging technology to solve the biggest pain points to case acceptance. We worked on their website in conjunction with Brand Buddha. Their integrated solution combines innovative dental benefits, payment processing, and patient financing through a single tech platform.
Overview: Wellfit is a trusted partner for a technology-powered financing marketplace, unified payment processes, and modern, compliant membership and discount dental plans. Headquartered in Dallas, Wellfit is led by a team of seasoned professionals in the areas of healthcare, technology, and financial services.
Why it Works: Wellfit's website utilizes a professional and clean design that is easy to read and is quickly digestible. The website has clean and modern functionality with a consistent call to action in key areas throughout. Wellfit has clear offerings that are displayed through their product page with messaging that intentionally targets their audience.
See their website here.
Kind Living Therapy
Amy Duffy is a counselor that offers a wide variety of counseling solutions. Our favorite part of this website is how it shows that a website doesn't have to be huge to accomplish what you need it to do, and bringing intention to any-size design can help people take their next step toward receiving care.
Overview: Kind Living Therapy specializes in depression, anxiety, grief, anger management, marital and family. Her mission is to help people achieve healthier and happier lives through improved mental health.
Why it Works: You don't have to be a large company to get a customized website design. Big or small, we'll meet you where you are at and Kind Living Therapy is a prime example. Their website contains clear messaging around core counseling offerings and a simple next step to drive patients to quickly receive care.
See their website here.
---
Regardless of the size of your organization, in this digital age everyone needs a well-crafted website. When done right, it can help you schedule new patients, lead your patients to helpful resources, provide clear next steps, and keep information secure.
Let our team at ClikIT help do the heavy lifting in making your website look good and function well. Together we can do IT! Get started >>