If you didn't already know, Apple recently announced that their VisionPro will be available next year. We're big techies around here, so this announcement has us incredibly excited! This breakthrough technology takes VR to a new level and uses spacial computing to make the world your screen.
VisionPro's release video shows a whole new world of possibilities when it comes to how we relate and interact with technology. The headset projects your display into your environment that you can interact with seamlessly using your eyes, hands, and the headset itself. The technology includes facial scanning for video calls, spatial reconstruction of the environment you're in, and allows you to stay connected to other people at the same time. Users can even capture first-person 3D photos and videos that can be played back later to re-experience the memory in ways that we never thought possible.
Just check out the video above if you haven't seen it yet!
As we have seen with technological advancement, things change quickly. It wouldn't be surprising if this type of technology is fully replacing smartphones within 10-15 years. With the previous boundaries of how we interact with the web, videos, social media, etc. being shattered, we need to consider how it can be used to enhance how we design with WordPress (and think about websites in general) moving forward.
Like any new innovation, organizations that are early-adopters are often rewarded with extra attention. Virtual reality and augmented reality have not been a fad by any means. Beginning years ago with games like Pokemon Go, extending into Oculus gaming headsets and Meta's Quest technology, and now Apple's VisionPro, this technology is here to stay. Will you be an early-adopter?
Here are some shifts that are on the horizon:
1. Opportunities to Engage and Immerse Users
With the capabilities of VisionPro, how users engage with websites will forever be changed:
Imagine online shopping where you can virtually walk around a store or have a 3D scanned image of a product in your space that you can walk around.
Imagine a donation process that involves the opportunity to directly experience the impact your nonprofit is making.
Imagine an online learning management system (LMS) that fully immerses you in the learning experience rather than taking you through a boring 2D course.
We will likely start to see website versions specifically for the VisionPro experience, similar in some ways to the unique mobile experiences we are crafting today. We are no longer confined to the limits of a computer screen, but users will be able to partake in a customizable, individual experience with text, graphics, and video that appear to literally jump off the page.
A question to begin asking: With this new technology, how could we fully immerse users in our brand and web experience?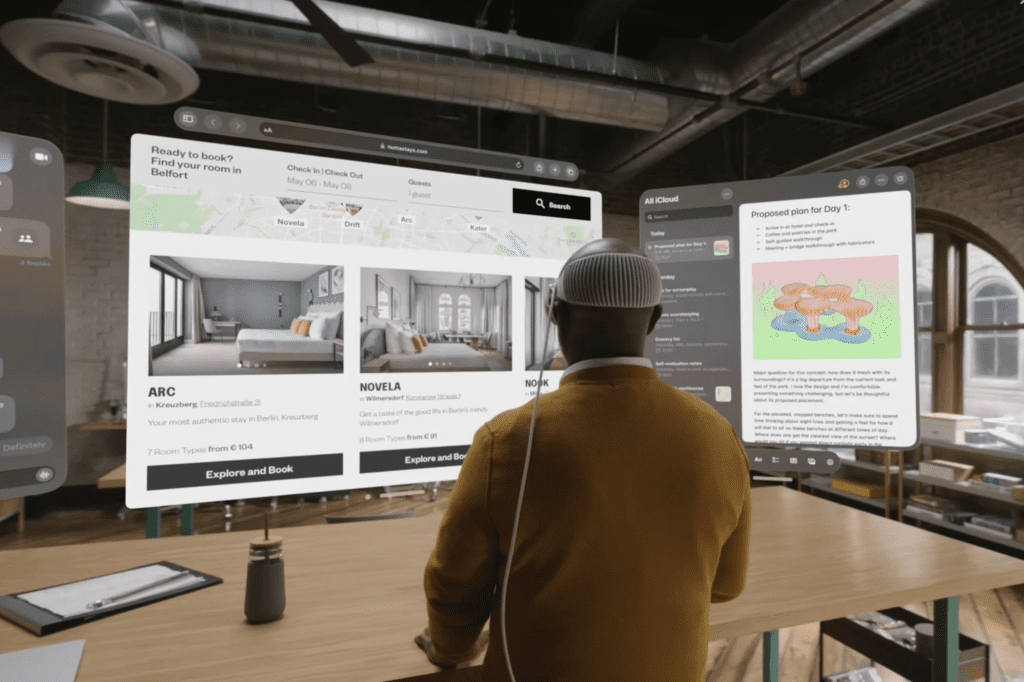 2. New Plugin Categories
With a spatial operating system like VisionPro, new plugins will be created specifically for augmented reality experiences in connection to WordPress websites. A plugin like WooCommerce Stores will likely be updated to allow you to view a product in your own space and perhaps even re-live virtual product previews as if you were in the room!
WordPress isn't going anywhere with this technological shift. But how we build with WordPress will certainly change. As capabilities continue to widen, it's important that we are ready to adapt and leverage what's available to drastically enhance our web experience for the people we engage.
A question to begin asking: As new plugins become available, are you prepared to innovate to leverage the latest in virtual technology?
3. Instant Results and Responsiveness
Spatial operating systems will completely change the way people live their lives. It will change how they view entertainment, how work meetings take place, how families stay in touch, how a web search takes place, productivity potential, and so much more.
As this shift takes place, users will develop a fresh expectation for what their web experience should be. It will need to be fast, of high visual quality, and more. No more waiting on things to load. What was once just in the virtual landscape, is now being blended into our physical space.
It will be obvious which brands haven't adapted, which makes this a shift in technology we can't ignore.
4. A New Way to View the World
Users are able to immerse themselves into your website experience with VisionPro's 24 million pixels. In their product launch video, they highlight how this is more than a 4K TV for each eye. Isn't that incredible technology?
Like we mentioned above, this opens up possibilities like signing-up for a course that was built with WordPress, but instead of going through a boring curriculum made up of pages and 2D videos, you are able to be fully immersed in the learning experience. That's just one example!
You can literally transport the user anywhere in our world or create a whole new virtual space to engage them in your brand, product, or service. With 360-degrees of viewable and interactable space, the only limit is our imaginations.
A question to begin asking: What can you imagine?
---
While we still have some time before spatial operating systems become fully commonplace, the entrance of Apple's VisionPro shows it's not as far off as we may have previously thought. This has the potential to forever change how people live their lives and how they interact with websites and brands online.
And the people who will succeed are the ones who are already imagining what is possible and how this will change web design for the better. Are you ready to start dreaming up what's possible?
Here at ClikIT, we strive to make the web a better place through innovative web design and web development. We're working to lay the framework for how WordPress stays on top of emerging technologies such as VisionPro Learn how.