Designing a pharmaceutical website is about more than how it looks. In addition to the goals of trust and clear communication with customers, the website also has to be designed with regulations, compliance, security, and legal in mind.
Just like healthcare websites, pharmaceutical websites also need to keep user information secure, especially if they are collecting proof of medical certification or prescription.
Just because there are some additional requirements to be met doesn't mean you should ignore how visitors will interact with your website or best practices to make your website stand out. One of the best ways to decide what will work well for your own website is by checking out websites from others in the same industry.
We've compiled a few pharmaceutical websites that our team here at ClikIT has had the opportunity to work on. We hope this helps inspire some ideas for your own website!
Each of these websites were completed in partnership with Brand Buddha, one of our trusted agency partners.
Releuko®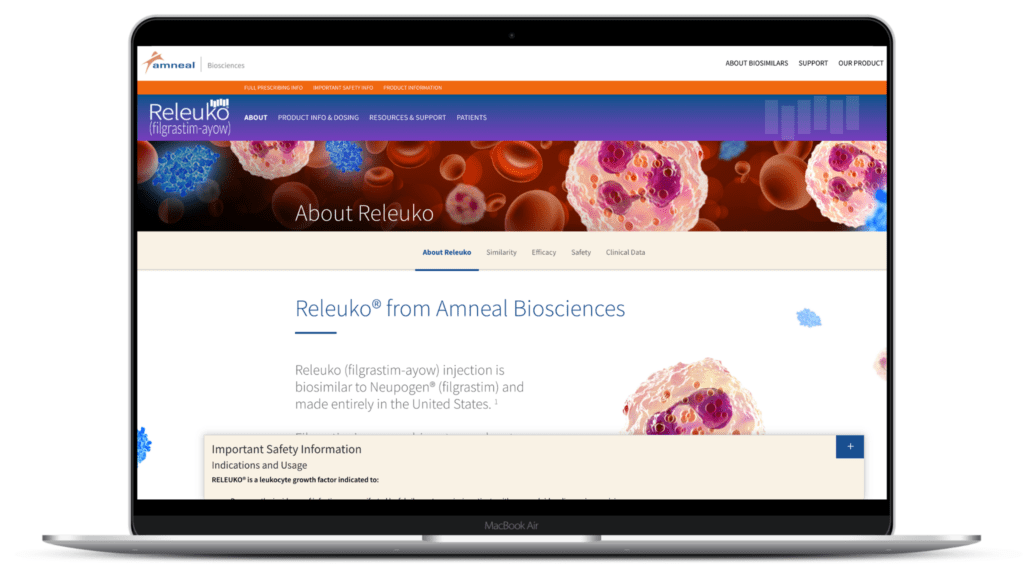 Overview: Releuko® (filgrastim-ayow) is an FDA-approved biosimilar to Neupogen® (filgrastim). Filgrastim is a man-made form of granulocyte colony-stimulating factor (G-CSF), a substance naturally produced by the body that stimulates the growth of neutrophils (nu-tro-fils). Neutrophils are a type of white blood cell important in the body's fight against infection. Chemotherapy, an autoimmune disease or an infection may lower your neutrophil counts, resulting in a condition called neutropenia. Neutropenia can cause swelling and repeated infections, and Releuko is used to treat this condition.
Why it Works: By providing a page just for patients, you can help them access the most pertinent information for them. The average patient likely doesn't need to read through every piece of medical information that needs to be on the website. A patient page organizes information in a way that makes sense for that targeted user.
Alymsys®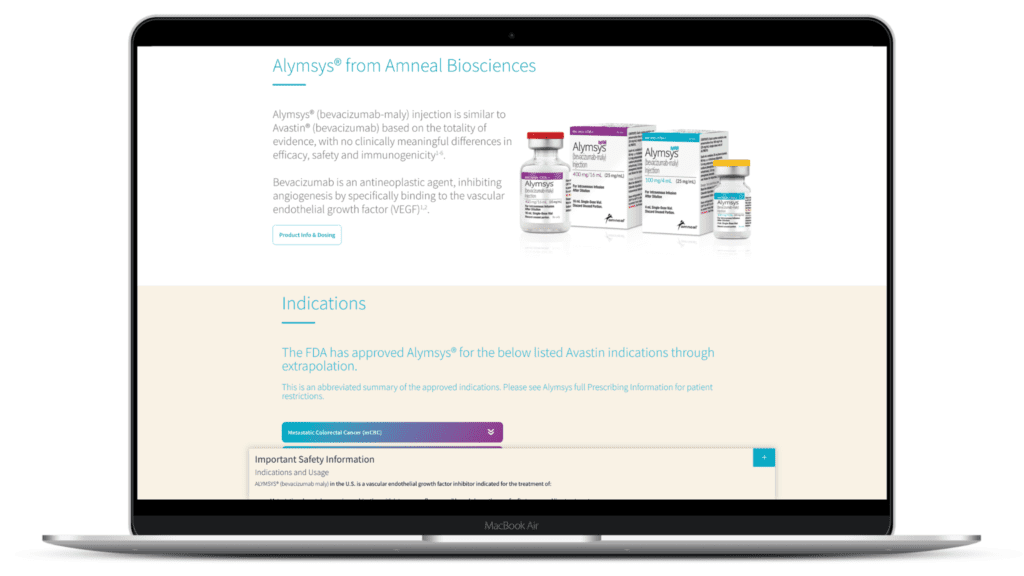 Overview: Alymsys® is a vascular endothelial growth factor inhibitor indicated for the treatment of metastatic colorectal cancer, first-line non-squamous non small cell lung cancer, recurrent glioblastoma; persistent, recurrent, or metastatic cervical cancer; andepithelial ovarian, fallopian tube, or primary peritoneal cancer. It is similar to Avastin® (bevacizumab) based on the totality of evidence, with no clinically meaningful differences in efficacy, safety and immunogenicity. 
Why it Works: The clear correlation in brand colors on the page to the drug packaging are a clear indication to the visitor when they have moved away from the page. This helps prevent confusion when learning about multiple pharmaceuticals and keeps the visitor on track with learning about the desired drug. The end-result is a visually engaging and modern website! We're proud of how this came together.
Fylnetra®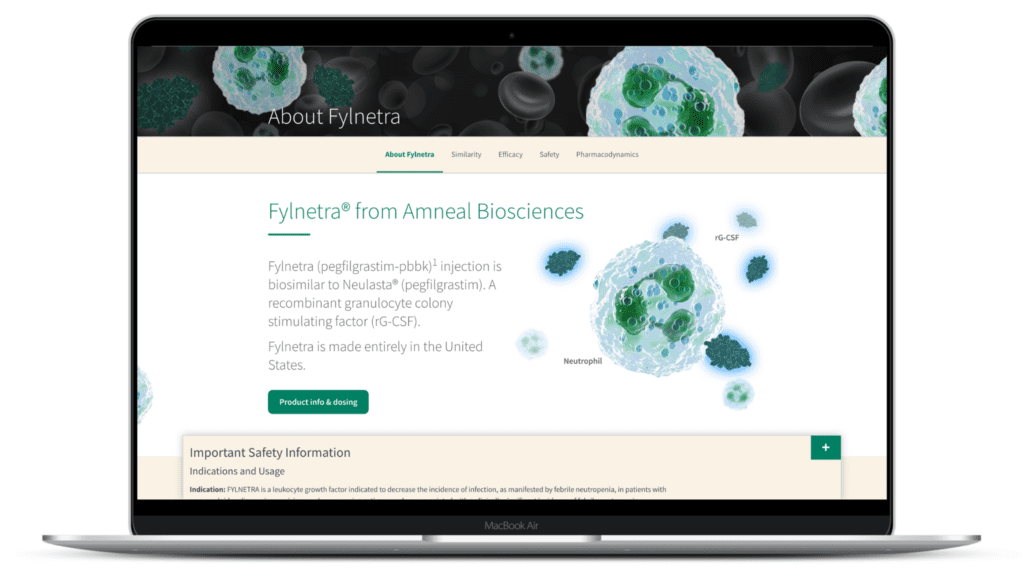 Overview: Fylnetra® is a leukocyte growth factor indicated to decrease the incidence of infection, as manifested by febrile neutropenia, in patients with non-myeloid malignancies receiving myelosuppressive anti-cancer drugs associated with a clinically significant incidence of febrile neutropenia.
Why it Works: Fylnetra ensures that all pertinent information is well organized and at the tip of the potential user's cursor. This website creates transparency from the name of the drug with phenetic pronunciation, access to important safety information, and even provides links to studies of the drug. Everything is in plain sight and laid out in a way that makes it easy for the user to navigate.
---
In this digital age, everyone needs a well-crafted website. In the pharmaceutical industry, when done right it will meet all of the required regulations and help visitors learn all the pertinent information about the desired pharmaceutical while also keeping their information secure.
Let our team at ClikIT help do the heavy lifting in making your website look great and function well. Together we can do IT! Get started >>