With 27% of all websites being powered by WordPress, it's the clear choice to use to build your website. Many big-name companies even use WordPress, including TIME, Disney, CNN, and Salesforce, to name a few. It's our favorite platform here at ClikIT!
Part of what makes WordPress so great is the ability to customize your website for exactly what you need. Even if you were to take a quick look at the names above, you'll notice that they all look very different from one another, with unique design and functionality.
It's this ability to customize that makes WordPress such a great option for your website, but it can also present challenges. Many businesses don't have the time to regularly be updating their website or simply aren't sure where to start, which can feel overwhelming at times.
What are WordPress Maintenance and Updates?
For many organizations, it's common to set up your website when you start your business and now you may only use the parts that you update regularly, like a blog, service pages, or price adjustments.
Many businesses take a set-it-and-forget-it approach to their websites. However, this can lead to broken links, 404 errors, and more that affect the overall performance of your website.
In addition to regular maintenance like performance and speed checks, as well as content updates to keep your site information accurate, it's important to install WordPress theme updates and any plugin updates regularly.
"Many businesses take a set-it-and-forget-it approach to their websites."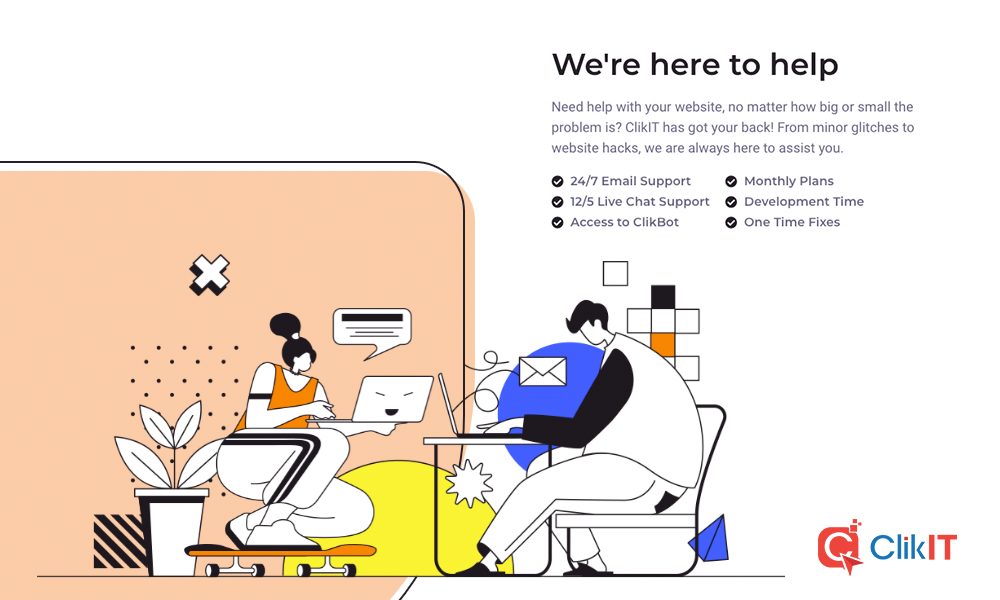 Why Do Maintenance and Updates Matter?
If you are already feeling lost or like it seems easier to just not mess with what isn't broken, we hear you! Knowing how to perform maintenance and double-checking updates on your website can take a lot of time. (In fact, that's why we do what we do!)
But there are several reasons why this is important to take seriously:
1. Security
It may seem easier in the short term to let those updates pile up. If it's not broken why fix it, right? However, this can leave your website more susceptible to breaches in security. This is important for anyone, but it is of the utmost importance if you or your client are in a data-sensitive industry such as healthcare, e-commerce, finance, etc.
You'll also want to make sure you have regular backups of all your data and design. The last thing you want to experience is a website crash of any sort and have no option but to start all over from scratch because you didn't back up your data. This is a major consideration in the event of a security breach, as having up-to-date backups is a crucial part of recovering and limiting any site downtime. However, 75% of data loss incidents actually occur due to human error. Regular backups should be performed to prevent data loss, protect against malware or hacking, limit site downtime, and be prepared for any site migration needs. (Additionally, just installing an automatic backup WordPress plug-in isn't always the solution for this. Many free tools on the market are missing a restoration functionality, lack consistent customer service, and have limited security features for your data.)
2. Site Speed
Broken links, bad plugins, large page size, extra data, and more can all impact your site speed. Regular maintenance can help you keep your site functioning at its best and ensures that your site performance isn't impacting the user experience negatively.
In addition, site speed is a fairly major factor in your website's ranking on search engines like Google. These search engines prioritize websites that function effectively, load quickly, and are helpful for a user, so your site speed is a major consideration for overall search engine optimization (SEO) performance as well.
3. SEO Monitoring & Effectiveness
As mentioned above, Search Engine Optimization (SEO) is more than picking the right words to show up in a Google search. Google highly values website with great site speed, proper functionality, and regular content updates.
This is why we can't treat our websites as something we set up once and leave for years at a time. Committing time to regularly perform maintenance and updates is essential if you are looking for results on this front.
4. Time
Proper website maintenance and updates not only take time to perform, but if you aren't sure how to do it, there is the potential to create a bigger problem. A critical or fatal error that can sometimes occur after an update or upgrade can leave you with data loss, severe downtime, and a whole lot of overwhelm if you weren't prepared.
For many people who try to "DIY" their site maintenance, it can feel like you have no resources to immediately turn to when an error does arise, which is why having someone in your corner to support you with WordPress support is incredibly valuable. Rather than waiting until something goes wrong to find someone who can help you, it's wise to develop those partnerships in advance.
Many business owners and marketing agencies try to do site maintenance on their own, which can cause extra stress, confusion, and overwhelm. If you are feeling that way about your WordPress maintenance or updates, you can reclaim your time by letting someone else perform these for you. The time (and stress) you save is well worth the cost!
5. Functionality
Site functionality will look different for each website because custom code and the unique plugins you've utilized will require specific adjustments over time.
Functionality issues could look like:
An outdated plugin negatively affecting sitewide performance.
Missing a new feature that has been added by a plugin author.
Utilizing outdated coding practices in site development. (For example, there was a fairly recent upgrade of the PHP scripting language from PHP 7.4 to 8.0 that can significantly upgrade a site's performance.)
Site features stop working because updates are not done. Many times, this can look like the WordPress core being out of date, and a new security feature or functionality for a plugin not being able to be installed because the WordPress version is not current.
Ultimately, regular maintenance is not just about the "extras" for your website. This is about the actual day-to-day ability for your site to perform as intended. So if you want to keep your site functioning as it's intended to, regular updates are a major part of accomplishing that.
---
Are you still with us? If your eyes started to gloss over at the beginning of this article or anywhere in between, we understand the feeling!
Small businesses and marketing agencies spend countless hours performing updates and maintenance to keep websites running smoothly. (Or even more risky, they ignore them altogether.)
Those hours can really start to add up and take valuable time away from doing what you do best. Let our team at ClikIT be your web partner to take care of your regular maintenance and updates. Together we can do IT!